Explore, model and act with confidence
With migration to the 64-bit architecture, a ribbon-based interface, the integration of the Python language, as well as the extended table formats, which eliminate the 2 GB size limit, Precisely MapInfo Pro v2019 will transform the way you do location analytics!
Web services for drive times and geocoding
Online drive-time and geocoding services require no installation or up-front investment. These pay-as-you-go web services make it easy to geocode tables of addresses and generate drive-time or drive-distance boundaries quickly.
Bigger data files
Work with large TAB files to tackle your big data challenges. Visualize information across nations and continents with no need to divide data into multiple tables.
Improved performance
A smarter way of managing indices on TAB files makes deleting tables and updating operations faster. The speed of queries and selections is significantly faster, especially when dealing with large numbers of records. Perform multiple operations in the background, leaving Precisely MapInfo Pro™ free for continued use while the operation is being run.
From the 32-bit to the 64-bit interface!
New SQL Window
The SQL window interfaced has been redesigned to help you increase your productivity. Get extended language function, pick your favorite or recent statement and preview your statement in Tool Tip.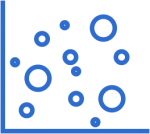 Heatmaps
Heatmaps tools are now available in the standard version of MapInfo Pro. Choose your heatmap style between standard, detailed, smooth and optimal.

Marketplace
Browse third party apps to get the most out of MapInfo. Easy to search and easy to install. Whatever you're searching for, there's an app for that!
Try Precisely MapInfo v2019 Today!
Searching for the mort recent MapInfo Pro version?