Location Analytics Pilot
Benchmark your use of geospatial technology & location intelligence.
The global pandemic has impacted consumer spending habits which has led to the disruption of many industries. Personal and business needs have changed greatly as a result of Covid-19 restrictions, lockdowns and confinement. Consequently, many companies have had to adapt their operations quickly and become more data-driven organizations where location-based information is essential.
Business continuity became the watchword as companies pivoted to invest in information technology. As companies acquired more data, they realized much of it was organized by location. Credit card transactions, store foot traffic, franchise revenue, account manager sales, last-mile deliveries and more could be organized and visualized geographically. The recognition that proximity relationships were better discerned with location analytics rather than a spreadsheet became a competitive advantage. However, many companies discovered that their expertise with geographic information was not up to par.
What is a Location Analytics Pilot?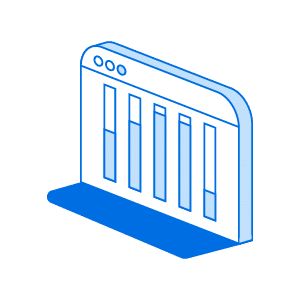 A Location Analytics Pilot assesses an organization's current use of geospatial technology and seeks to align software and data utilization to a business problem. The pilot is customized to reflect the current business objectives, and establishes a baseline for the types and amount of data required as well as the integration of geospatial software solutions with enterprise business systems. The advantage of developing a pilot is to help identify an elastic solution capable of incorporating additional data or software that evolves as market conditions or business objectives fluctuate.
Challenges Faced by Organizations and the Benefits of Korem's Location Analytics Pilot
As the market evolves, businesses sometimes see that their prior utilization of business intelligence solutions, and geospatial technology specifically, is now out of date. The competition becomes increasingly fierce, and market share is lost. Solutions to their most pressing challenges need to be found urgently. Maintaining the status quo won't cut it.
Ignorance of existing external location data that could answer their business question and allow data-driven decisions
Inexperience, ignorance, or lack of manpower to create a proof-of-concept
Extended time-to-market, inability to achieve rapid confirmation of values, or fail fast
Lack of visibility on cost involved with data, technology and location analytics operationalisation
Fear of falling behind the competition by not using data-driven decisions (FOMO)
Missed opportunities, due to slow decisions
Questions arise as to where to open, close, renovate or relocate stores, warehouses, offices, etc.
Enhanced customer experience must be improved
Increasing operational cost must be mitigated
Rapid confirmations of business assumptions: can location data and geospatial technology, combined with location analytics expertise, help me make better/faster data-driven decisions? What is the value?
Confirm assumptions of market conditions with additional data
Make better use of geospatial data
Align market conditions with technology needs and business objectives
Address deficiencies of geospatial technology and determine solutions
Types of Analysis Offered
The type of analysis will greatly depend on the type of assumptions the client is trying to confirm. While location analytics solutions usually end up combining several types of analysis and sophisticated modeling, for a pilot, Korem recommends selecting a small subset of analysis that will confirm the assumption and proof the value for your business. Here's an example of common analysis used for the pilot:
Discovery analysis: spatial descriptive analysis
Market assessment, research, analysis, exploration and current state analysis
Store segmentation and peer group creation (scoring based on external data)
Site performance and potential, analysis and ranking
Sales potential, modeling and forecasting
Customer segmentation
Store and trade area, creation, optimization and cannibalization analysis
Competition tracking, segmentation and analysis
Advanced analysis: predictive and prescriptive scenario
Price elasticity and volatility
Profitable market optimization (open, close, relocate, renovation) store
Prescriptive sales forecasting/modeling
What are the Deliverables of a Pilot Project?
Evaluate the current state and business objectives
Korem will engage with your organization for a comprehensive analysis of your current solutions, data usage and workflow. We will review your business objectives with you at this stage and define the success criteria of the project to ensure it aligns with your needs.
The data exploration
Korem will evaluate which data could be relevant to the client's specific use cases (e.g., socio-demographics, consumer expenditures, business location and other points of interest (POI), vehicle and foot traffic analysis, competitor locations, and more) and present the various options to the client.
Collaborative KPI or model ideation: "Defining the secret sauce"
This step is a collaboration between Korem geospatial and modeling experts, your organization and stakeholders. It will define which KPIs will identify success and can be turned into actionable insight, based on the corporate strategy, business objectives, business drivers, the competition, etc.
Pilot solution and scope analysis
Korem will provide guidance regarding data and software licensing, software trial dependencies, and the need for professional services, to ensure that you get the most advantageous pricing, terms and conditions.
Location analytics POC and methodology
Korem will work on a location analytics implementation that will transform the KPI/model idea to an actual tangible proof-of-concept, including modeling and visualization. The analytics activities will often include data profiling and a data quality assessment, including data preparation, data blending, cleaning, and automation. Statistical and geospatial modeling (e.g., drive time polygon, kmean, non-overlapping trade area, spatial regression analysis, etc.) will also be considered, including ranking and scoring of the market, where necessary.
Pilot results presentation
In collaboration with the primary business stakeholder involved in ideation, Korem will present the result of the pilot. This usually allows us to confirm that the location analytics pilot answered the business problems or questions and confirmed initially defined assumptions.
Recommendation for complete solution
Assuming the success of the pilot, the customer will be able to confirm the business value. In order to firm up the ROI for the complete solution, Korem will work on presenting recommendations for a complete solution. This will typically include service efforts for modeling adjustments and operationalisation, data and software licensing costs, along with any other recommendations.
Why Choose Korem for your Location Project?
Korem acts as a strategic advisor to help clients define key performance indicators as well as to provide technological recommendations, with specific considerations for interoperability. With a strong network of partners as well as more than 26 years of experience in the field of strategic site analysis, we are your go-to advisor for geospatial technology and location intelligence consulting.
Having worked on several similar projects over the past three decades (Société des Alcools du Québec, Home Depot Canada, Groupe F. Dufresne, Prologis), Korem is confident that we will surpass your expectations to accelerate your corporate achievements and deliver results that focus on your most pressing revenue objectives.
Start Your Location Analytics Pilot Today!
Complete this form and one of our expert will contact you.