BOPIS (Buy Online, Pick Up in Store)
What does BOPIS stand for?
BOPIS is an acronym for "Buy Online, Pick Up In-store."
What is BOPIS?
BOPIS is the trend in retailing to offer e-commerce customers to purchase through an online web portal but take possession of the goods by driving to the retail center to pick up the purchase. Developing an easy online web mapping portal helps customers visualize their options for pickup. 
The online ordering process is further facilitated by the address autocompletion feature, which suggests addresses in a form as users begin typing. This feature reduces the number of keystrokes and the possibility of errors. Combined with geocoding, which assigns geographic coordinates to a postal address, address autocompletion allows for faster and more accurate data transmission. 
When the order is ready, generally in 1–3 hours, the customer is notified by email or text message. He/she can then choose to pick up the order at a time that is most convenient for him/her during store hours. If a product is not in stock at the selected store, the customer can choose to pick it up at another store or wait a few days for the product to be delivered to the nearest store. 
Naturally, the BOPIS option is only available at retailers that have both an online store—or a mobile application—and a physical store, as well as real-time inventory capabilities. 
What are BOPIS methods?
The customers can choose their favorite pickup methods including:
Curbside pickup, where they park in a designated parking space and wait for a store associate to bring the order out to their vehicle.
Standard pickup, where the customers have to pick up their order inside by presenting themselves at the customer service desk.
Contact-free pickup, where customers can use BOPIS retail lockers to retrieve their order.
Why should retailers implement BOPIS
BOPIS offers several advantages for retailers and customers, such as:
Reduced shipping costs;
No shipping fees for the customers;
Increased traffic in retail stores;
Additional purchases made by customers;
Improved customer service;
Easier inventory management;
Faster order preparation time;
Secure order pickup.
What is a Store Locator and how is it relevant to BOPIS?
A Store Locator is a mapping solution that can be integrated on a website or on a mobile application. It allows customers to locate nearby physical points of sales and gives general information about stores, such as their:
Name
Logo
Store locations
Phone number
Opening hours
A Store Locator is particularly useful for BOPIS to identify the nearest stores from a GPS location (mobile access) or by entering a postal code or an address (traditional Internet access). When a store is selected, the Store Locator can provide directions and GPS guidance with information on the distance to travel to the destination.
Here is an example of a store locator designed by Korem for Jean Coutu: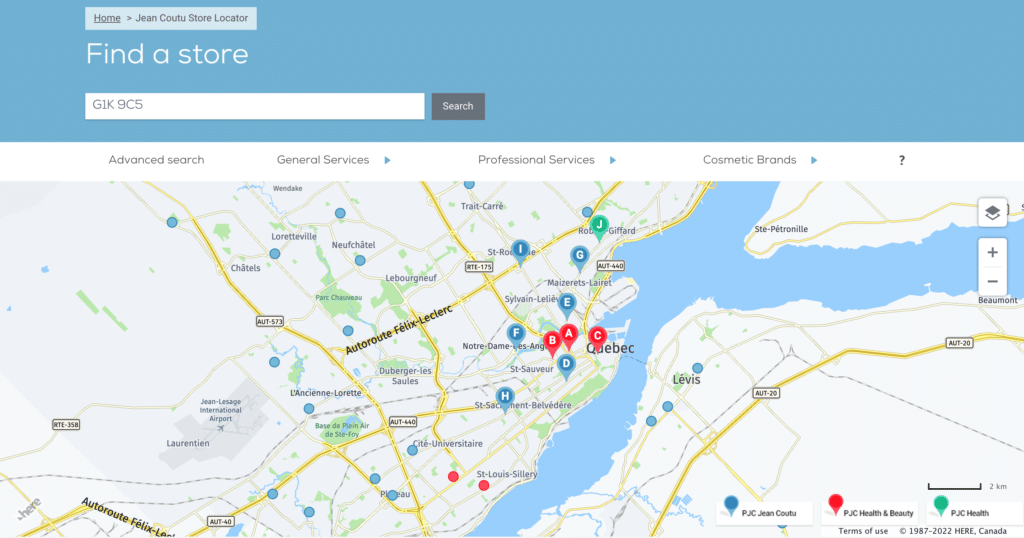 What is a Product Locator and how is it relevant to BOPIS?
Like a Store Locator, a Product Locator is integrated on the product pages of an e-commerce website or on its mobile application. It is used to confirm the availability of a specific product in the store previously selected by the customer, or to show its availability in a list of stores of the same brand.
A Product Locator can also be used to locate the nearest store with the product in stock, which is convenient for shopping online and picking up orders in-store with the least amount of mileage possible.