How Insurance Leaders Successfully Leverage Geospatial Technology and Data

The digital transformation brought by new technologies is affecting many businesses as well as consumers. Insurance companies are no exception as the digital transformation wave brings its share of challenges. However, innovative insurance leaders are transforming those challenges into opportunities and among those lies geospatial technologies. They are primarily used by insurers to model risk in order to underwrite and set accurate premiums. They are also used to map out risk areas, anticipate potential disasters, assist claim management and help with fraud detection. Combined with other leading-edge technologies, geospatial technologies enable monitoring of customer behavior as well as improving customer experience through better and timely communication when a disaster hits.
While today is the age of business intelligence and smart technology, many businesses are struggling to reap the benefits and understand the reality in a better way. This goes especially for the insurance industry, which evolves in a competitive market where consumer habits are changing, and external factors such as climate change are affecting the historical data accuracy used for risk modeling and segmentation. Fortunately, more and more insurance companies are recognizing the value of geospatial software and data for improving different aspects of their business. The question then becomes how to apply it in their organization and use it to their benefit.
Here's how geospatial data and software can help insurance agencies in many aspects of their business:
Performing Risk Management with GIS
Location data offers a wealth of information that insurance companies can use to assess risk. First, using geospatial software, it is possible to map out where disasters occur and thus distinguish between high and low-risk areas. These larger areas, often zip code boundaries, are then divided into high accuracy regions that can be as small as a few meters, which is required for a flood risk analysis. Next, the property location can be accurately geocoded and the risk level then can be determined. Such refinement is possible using spatial datasets providing high level of granularity, that can be aggregated and visualized on a map using analytical mapping tools. This way, the total insured value (TIV) can be calculated and the risk exposure of this area can be determined.
Insurance underwriting becomes easier with GIS
If assessing risk becomes easier, underwriters are then able to do their job with more precision and less effort. For instance, underwriters can use GIS to perform field inspection without leaving their office by visualizing and analyzing street-level imagery, aerial, and satellite data. This way, geospatial technologies become a great tool for evaluating the risk exposure for potential clients, and for underwriting accurate policies without the need for personal in-depth knowledge of risk profiles.
Utilizing "Geographic Underwriting Stations" (GUS), insurance underwriters can now access data on population demographics, property values, location of fire hydrants, fire stations, hazardous facilities, police stations and even crime rates. This enables them to create risk indexes for specific areas and understand the situational context of potential threats or risks. If necessary, historical data can be added to check if the property is in a high-risk area or not. Combining historical data with information in an area of dense population, high crime rates and high frequency of earthquake events can help underwriters make informed decisions on whether to undertake property insurance or not and evaluate appropriate premiums for that cover.
GIS in the Natural Disaster Context
It's not a secret for anyone, particularly in the insurance industry that the number of natural disasters has been rising over the past few years. According to 
Munich RE NatCatSERVICE
, the number of relevant natural loss events in North America has practically doubled from 1990 to 2018.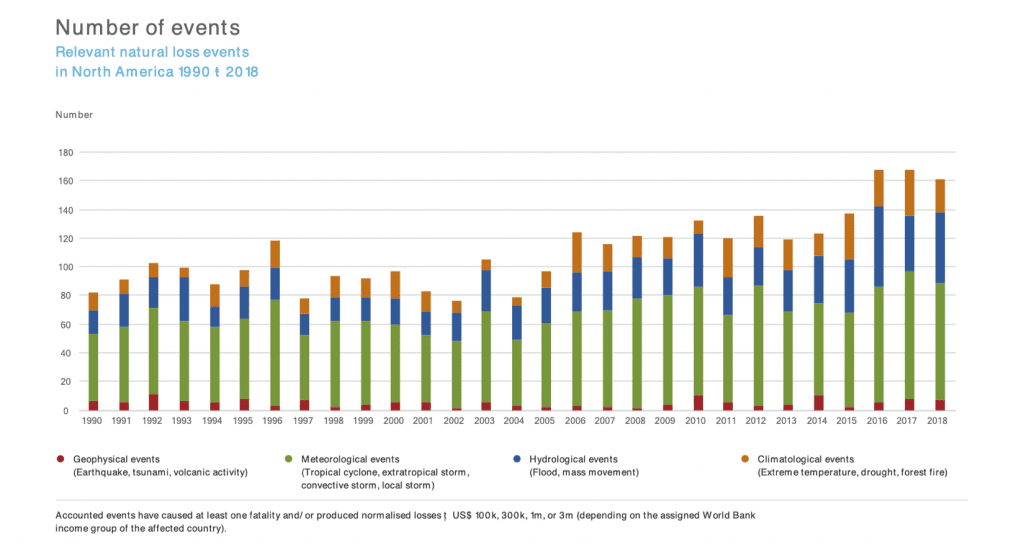 Although these events cannot be avoided, insurance companies can work to improve their potential loss assessment process, as well as having a clear action plan for when disaster hits. This is why CAT modeling and disaster response is so important.
Catastrophe (CAT) Modeling: Predicting losses with GIS
Geospatial tools enable modeling the effects of a catastrophic event such as a hurricane or earthquake. The more detailed the model, the better prediction, evaluation and management of future events can be undertaken. Connecting available data from governments, related agencies, GIS companies and even citizen-provided open-source data has helped reach new levels. Using this data as input for a model, GIS software is used to calculate the spatial distribution in the form of a map that shows the effects on the environment. Such an accurate overview enables insurance companies to estimate the amount of damage and its exact location.
Accelerate claim management with GIS data
When the inevitable occurs, insurance agencies are often judged on the way they handle the aftermath. GIS can have a tremendous impact on claim management as part of a disaster response. Using mapping technology, insurance companies can map out affected areas, properties, and customers. It allows them to be proactive and contact their customers before they contact them.
Real-time event modeling can also be combined with historic models to track an event's progress and help predict the path it might take with more accuracy. It then enables insurance companies to anticipate those who will be affected and communicate with customers even before a disaster takes place. This will aid in expediting claims processing and customer support. It can also help reduce potential risk through collaboration between customers, utility companies, news media and government.
Utilize Geospatial Data to Detect & Prevent Fraud
It is estimated that fraudulent insurance claims make up around $80 billion across all lines of insurance each year in the US and Canada. With profit margins already thin, insurance companies must lessen the financial impact of fraud. In order to do that, they must work toward predicting and detecting frauds.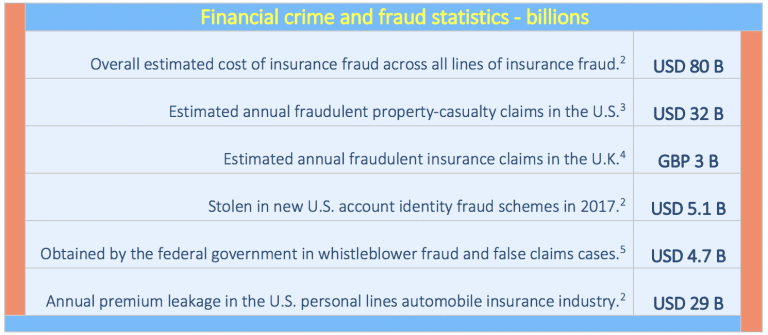 Geospatial technologies provide inspection tools to discover possible fraud. Address misrepresentation or falsification to get a lower premium or a higher-risk valuation is common. When viewed on a map, the scale and nature of fraudulent claims can illustrate trends and help identify those riskier areas thus allowing insurance companies to predict insurance fraud attempts.
The ability to query and view "before and after" information about claims in a GIS environment can quickly and effectively isolate claims that warrant closer inspection and reduce the risk of scams. With regards to agriculture, satellite imagery is often used for "before and after" comparisons to verify seeded crops by crop insurance companies. This satellite data that makes this possible is available online for free, but geospatial tools provide additional analysis to look for vegetation growth. This way of fraud prevention is necessary, as insurance companies hold a lot of risks.
A Better Customer Experience Starts with Location Data
Following the experience with online stores and service providers, customers expect a personalized approach from their insurance company. While this approach is fairly new to insurance companies, today they have more access to consumer data, analytical tools, and marketing technology than ever before to make the transition a reality.
Geoenrichement data combined with high accuracy geocoding can be used to provide a "quick quote" experience, where the customer can get a quote in a matter of minutes without talking to an agent or answer tons of questions. This speeds up the process and reduces complexity for both the insurer and the customer, thus improving the customer experience.
As stated above, not only GIS technology can improve risk assessment, but by being accurate, insurance companies can then provide competitive premiums to their customers, which will enhance the customer experience and increase customer loyalty and retention.
Location Technology Underpins Telematics
Pay as you drive (PAYD) or usage-based insurance has become increasingly offered by car insurance companies over the years. They use geospatial BigData processing to analyze the GPS traces gathered from telematic equipment and examine driver behavior such as harsh breaking, cornering or speeding. Adding spatial context such as street network with speed limits, traffic information, and historic claim Information, allows to go beyond the driver's behavior and make relation between the two.
With that data, they can estimate premiums, as well as provide tailor-made offerings based on personal driving habits. GIS data opens new opportunities to reduce insurance risk, and reward safe drivers with reduced premiums. It does introduce risk with disruptive competitors looking to cherry-pick more profitable low-risk drivers whilst recognizing that these drivers also subsidize those who take more risks.
This method is also used by industries like freight and distribution. As part as a gamification application, companies are successfully encouraging their drivers to compete for bragging rights as safest drivers. 
In addition to collecting data about information about individual driving patterns, they can track the location of the vehicle. Using a geofencing mechanism that verifies whether a device crosses an invisible fence (such as a geographic boundary like a state border), car rental companies are able to send the driver an alert. Being able to communicate with drivers in real time creates new opportunities to provide interesting data services that take into account the current location of a car, such as live traffic data.  
The IoT is opening many more opportunities with Smart Cities gathering and sharing data using telemetry and API's. This plethora of data opens new opportunities for collaboration and research, with more and more layers of data available.
Overcome Insurance Challenges with GIS Data
The insurance industry faces many challenges today. Increased competition, specialization, higher visibility, reputational risk, fraud and an increasing number of natural catastrophes are having a significant impact on productivity and profitability.
Success in the insurance business today means being able to embrace these challenges whilst staving off opportunistic disruptors bent on attacking profitable niches or groups of customers.
Insurance leaders must be able to make smarter decisions in all aspects of the business in today's climate of change. This requires the support of trusted multidisciplinary strategic advisors, integrators and consultants, who understand your business needs and who are constantly evaluating, deploying and supporting geospatial solutions in the insurance business. A solution that meets your present and future needs is unlikely to come from a single software or data source. It will come from a trusted reseller and integrator, offering completeness of vision with the ability to execute.
Reach New Heights With Korem
At Korem, we've been the best in recommending, integrating and selling the top geospatial data and software in the industry since 1993. We enable our customers to achieve and reach new heights by delivering results, offering innovative products, reducing our customers' risks and costs, and never losing sight of our customers' goals.