ArcGIS vs Best of Breed

When I moved from Esri Canada to Korem a few years ago, one big change involved was going from working with a single product suite (ArcGIS), to building solutions using different technologies from multiple providers. Over the years, our team has developed in-depth expertise with every major key player in the geospatial industry such as Precisely (formerly Pitney Bowes), Esri, Hexagon/Intergraph, HERE, TomTom, FME, Alteryx, Google, etc. This experience allows Korem to help companies overcome business challenges that include:
Increasing geocoding accuracy and match rates;
Data integration and enrichment;
Integration into mixed GIS ecosystems;
Enterprise integration with CRM, ERP and BI systems.
Korem's approach is to offer a technology agnostic approach, meaning that we focus first on the business challenges, and then look for software and/or data to provide a solution that meets the company's needs. Often, the discussions we have and feedback from customers revolve around choosing one technology over another (Esri vs Precisely, for example), and often end up resembling a religious debate (like Apple vs Android), which leaves the business user and the problem at hand behind. People who consider their company to be an Esri-shop tend to look only within the Esri ecosystem for solutions.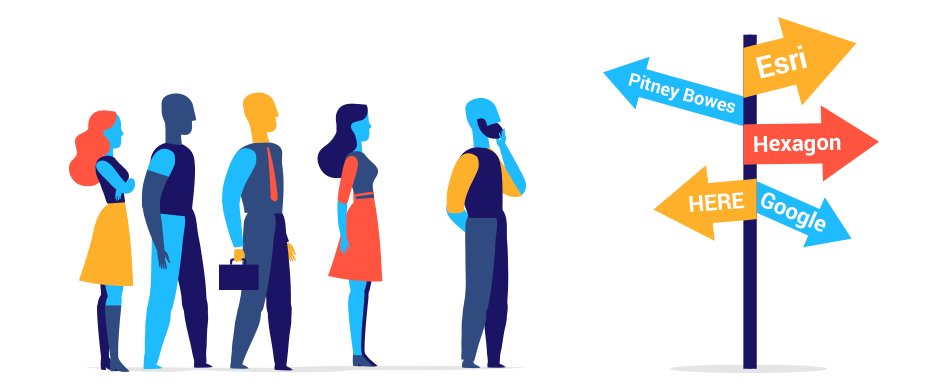 Power-up your ArcGIS Ecosystem
Find out how we help Esri users strengthen their ArcGIS ecosystem.
Place Business Needs First
We found that many of our customers end up adopting mixed GIS ecosystems to fully address their business needs. For instance, a Telco company may use an Esri solution for their wireline network management and a Precisely-based solution for their wireless network. Utilities companies also tend to have a mixed ecosystem. They may use Hexagon GeoMedia or GE Smallworld as the source records system, Esri for web mapping and Precisely for high accuracy geocoding.
Companies can benefit from sourcing the best product for the right task directly from the vendor or a Value-Added Reseller like Korem.
Geocentric or Geo-Enabled?
Korem mainly focuses on Location Intelligence: we geo-enable areas of the business that were not exposed to the traditional geocentric approach. Geocentric GIS solutions were historically meant for a closed ecosystem of GIS specialists that manage or own the data. Once you start thinking about integrating geospatial capabilities that will serve thousands of users through operational systems like CRM, ERP or BI, you need to consider new requirements such as:
data governance;
accuracy;
automation;
real-time access;
and integration.
The features and user interface also need to be adapted to users who are not GIS-savvy, with a simplified map interface or sometimes even no map displayed. In that context, the GIS platform cannot work as a closed ecosystem (geocentric) and needs to be deployed where the data lives (geo-enabled). For example, one might want to automatically determine the insurance rating for a specific address by considering various risk criteria such as flooding, fire, earthquake, and level of crime in that area. To complete such an automated process, we need to parse and recognize the address, precisely geocode the address location, enrich the location with commercial data, and query a set of predefined risks and pricing models from the actuarial or underwriting team.
In such use cases, manual validation is usually not viable as it is very costly and adds latency to the business processes. Therefore, the process must be as automated as much as possible, which means that no analyst or underwriter manual validation is required, and no map is displayed except for cases where the geocoding precision is insufficient.
The same principle applies to Big Data environments where geospatial data cannot be extracted from the data lake to the GIS platform when you have billions of IoT records coming from smart meters that need to be processed in real time. Instead, the Big Data cluster must be geo-enabled to bring the geospatial capabilities within the cluster. By geo-enabling a Hadoop cluster, it's now possible to execute spatial processes such as Address Validation, Geocoding or Routing against billions of records within minutes.
Improving Address Recognition and Geocoding Accuracy
Geocoding accuracy is one of the most important challenges for our customers. If you have millions of customer addresses to geocode, even a small portion of non-validated or geocoded addresses can have a huge impact on your business, whether you are dealing with risk determination in insurance, network serviceability in telecommunications, or field inspection in utilities. Consequently, even a small 1% increase in the match rate or accuracy can bring a lot of business value and a quick ROI (Return on Investment).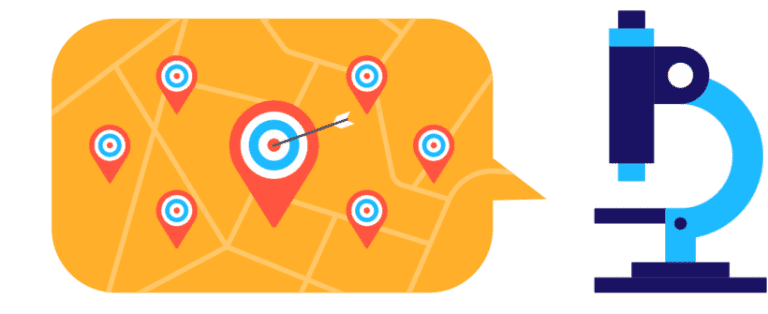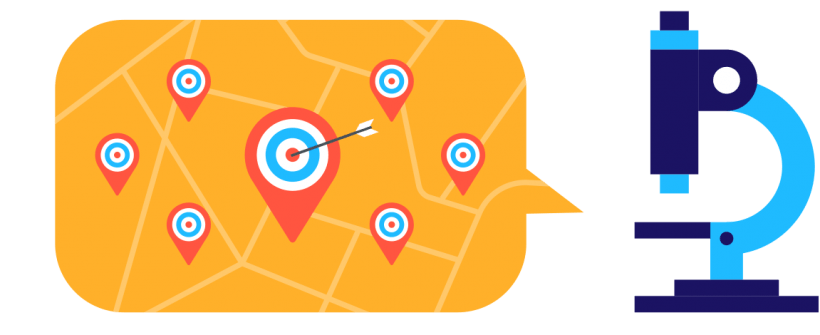 Korem has helped many Esri customers to improve their geocoding accuracy with various solutions such as the integration of high accuracy Address points and Parcel data into their ArcGIS suite. We've also worked closely with our partner Precisely in developing a new Esri connector that enables the integration of Precisely's Spectrum Enterprise Geocoder's best-of-breed high accuracy geocoding into the Esri ecosystem. Korem often recommends Spectrum Geocoder namely due to its MLD (Master Location Data) address point dataset, which allows organizations to increase both the precision and match rates they get from the geocoding workflow.
The integration of Precisely's geocoder into your solution can also increase street address recognition in your environment due to the integration of postal address datasets and address validation capabilities in the Spectrum platform. This integration is especially relevant for legacy/existing business systems that often store address data in multiple formats without necessarily following standards. Data in those systems can be manually entered by the end user without any sort of validation.
Korem regularly helps customers identify key pitfall scenarios during the integration of an automated geocoding process. In such cases, Korem guides the customer and recommends adding a specific address validation workflow prior the geocoding workflow. The expertise that Korem brings translates quickly into increased ROI. This is particularly true if you are an organization that sends a large volume of mail.
The Address Validation workflows are validated against datasets which have been maintained, updated and certified by the Coding Accuracy Support System (CASS) in the US or by the Software Evaluation and Recognition Program (SERP) in Canada. Thus results in a substantial discount for addresses that have been validated prior to being sent by mail.
Not satisfied with your "one size fits all?"
With my varied work experience at both Esri and Korem, I can see that more and more companies have mixed geospatial ecosystems and are transitioning from traditional geocentric to geo-enabled enterprise deployments. These systems have essentially the same core capabilities, but their integration is often very different and is often implemented transparently for users. Although this type of implementation brings a lot of challenges, the observed benefits are significant and help promote a competitive advantage and brings the company to the next level.
Independently of your primary GIS technology, if you have a business challenge with your traditional geocentric GIS deployment or a new system that needs to be geo-enabled, Korem is here to help!
Power-up your ArcGIS Ecosystem
Find out how we help Esri users strengthen their ArcGIS ecosystem.