How Location Intelligence is Essential for a Successful 5G Deployment

The promise of 5G
5G technologies will allow several new use cases in various areas affecting consumers, businesses and governments. According to Qualcomm, by 2035, 5G could produce up to $12.3 trillion worth of goods and services for telecommunication and other industries that will leverage these new capabilities.
The 5G Use case are grouped in 3 main categories:
Massive Machine Type Communications (mMTC): More efficient communication for IoT, connected objects and smart sensors. This will also allow expanding battery life and cost optimization, enabling Smart City for instance.
Ultra-Reliable and Low Latency Communications (uRLCC): Very low latency down to 1ms, which will enable new use cases for autonomous vehicles and drones.
Enhanced Mobile Broadband (eMBB): More than 10X speed for mobile phones and support new use cases leveraging Augmented Reality (AR) and Virtual Reality (VR). Higher bandwidth will also allow providing fiber-like broadband internet using 5G Fixed Wireless Access (FWA), which is often considered as the fourth use case.
To get there, the telecommunication carriers will have to pull massive investments at several levels. From the acquisition of new 5G radio frequency licenses in the desired markets, to the deployment of new advanced antenna supporting 3D beamforming and massive MIMO technology to provide high throughput. Infrastructure investment will also be required to enhance the core network. Network slicing and edge processing will help lower latency within the different types of communications. Moreover, it will force investment in the fiber network which will serve as backbone for the rapidly increasing wireless traffic.
According to Accenture, in the United States only, the infrastructure investment for 5G is estimated to $275 billion over the next 7 years. Consequently, each operator will be doing everything they can to protect these investments and make sure their 5G deployment and commercialization are successful.
The business challenges beyond
the 5G technology
Beyond the technological challenges, the 5G deployment and commercialization will bring a lot of opportunities and challenges for carriers, such as:
Where should I deploy 5G first and what should be the focus for each area (Fixed Wireless, IoT, High Speed and capacity)?
Can I make sure I get there first by streamlining the go-to-market process from new radio spectrum licenses, installations, marketing, service qualification to sales?
How can I optimize cost? Should we consider Fixed Wireless Access/WTTX as a broadband internet cost-effective alternative to fiber construction?
How do I monitor and troubleshoot the customer experience and quality of service to serve as a brand differentiator that will allow gaining market shares and limiting churn rate in a highly competitive market?
Location Intelligence will be key in providing the answers and making the best decisions.
Leverage location intelligence
Watch our webinar to learn how location intelligence can help you overcome 5G challenges. 
How 5G is changing in the geospatial industry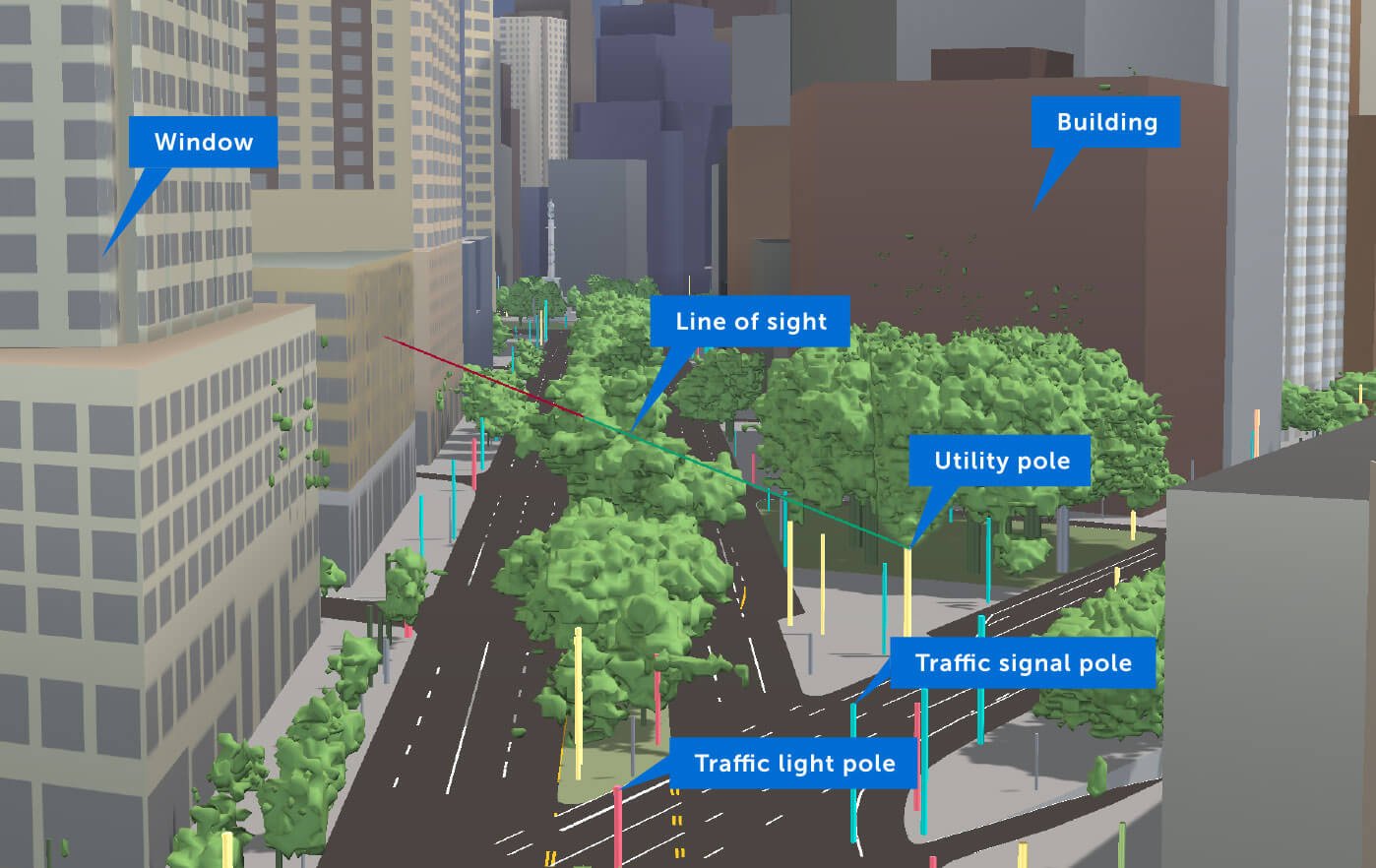 Today, most carriers use geospatial technologies and data to some extent. However, 5G will radically increase the need for location intelligence, putting pressure on existing capabilities and increasing the need for geo-enrichment datasets. Some important changes will be happening:
A Race for Accuracy: Instead of relying on microcells with large coverage, 5G will leverage microcells using higher radio frequencies such as millimeter waves which will provide higher throughput but will then be more subject to signal attenuation. This will result in a smaller coverage forcing the deployment of large number of microcells in small areas. This combined with the convergence of wireless, wireline and fiber networks also required for 5G, will induce a rapid network densification. Other factors will play a role: network specialization, which will require more granular and complex service qualification for instance, will increase the volume, data updates frequency and complexity of the geospatial processing.

5G NR with high frequencies such as mmWaves will force RF Modeling tools to introduce more advanced models including 3D and in-building. Propagation models that used to work with resolution 30 meters geo-raster files will have to increase accuracy with resolution of 10m or even 1m. With hundreds of thousand antennas, this will generate massive amount of geospatial data that will change at a high frequency rate. Beyond Digital Elevation Models and clutter, additional high precision modeling datasets will be required; Building Footprints with elevation, BIM and even trees. These datasets will become more broadly available, as they are generated using advanced techniques combining LIDAR, imagery and AI/Deep Learning.
As the RF propagation modeling get more precise, next generation geocoding will also become mandatory. This is especially true for Fixed Wireless deployed in suburban and rural areas where the address recognition and geocoding accuracy were traditionally weaker.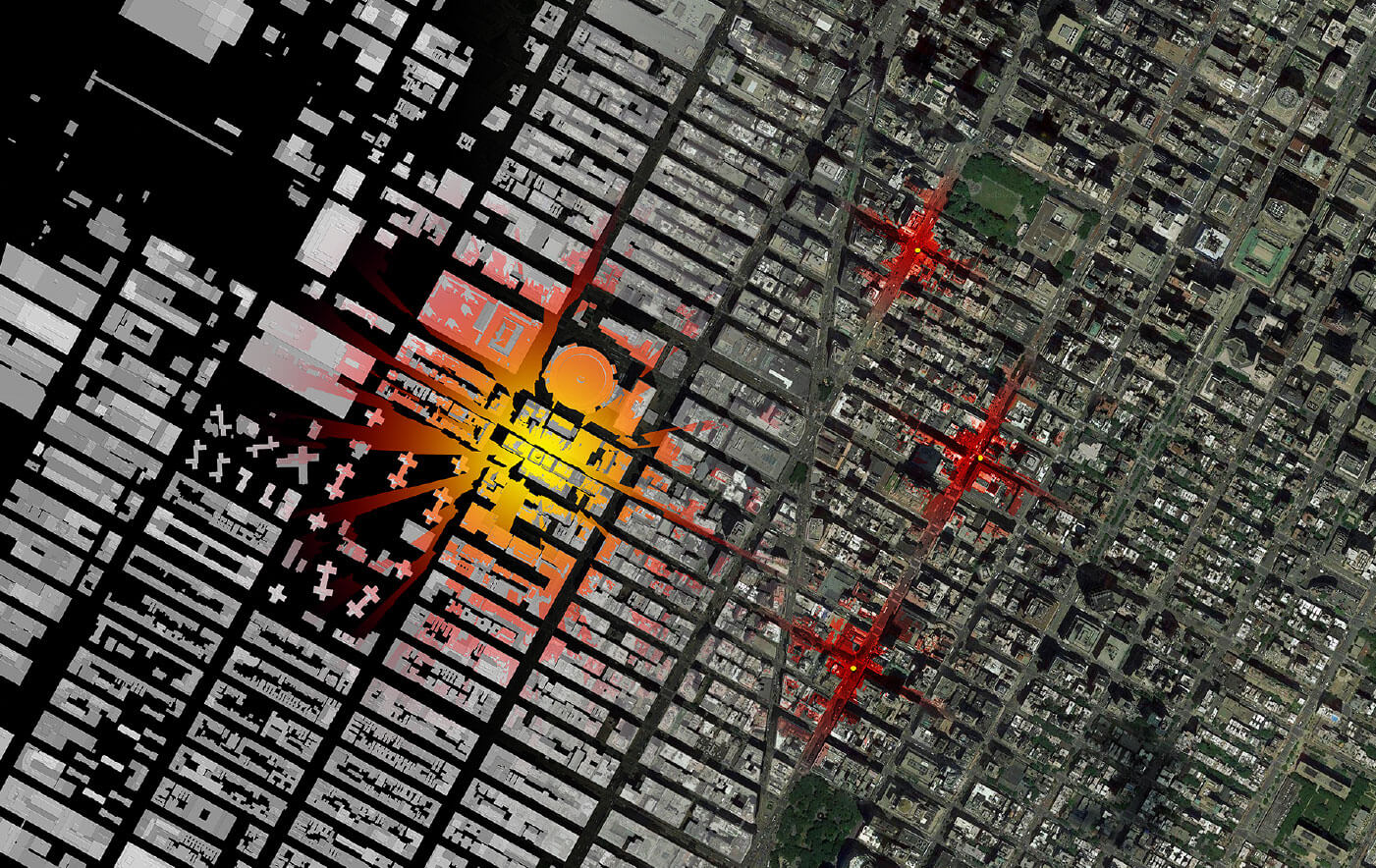 Data Enrichment for 5G networks
The diversification of 5G network products will need to go far beyond determining eligible for 5G Yes/No? To determine which products/technologies the customer would have access to, the geospatial platforms will have to qualify accurately based on; signal strength, estimated speeds, capacity, and which sub-technologies, etc. Leveraging that data with advanced geoprocessing will allow dynamically selecting the optimal scenarios, such as best serving antennas for a customer premise equipment, or by evaluating quickly millions of addresses for network planning or marketing geo-analytics use cases. Combining the business data with 3rd party data such as business points, segmentation, demographics, traffic, property attributes and even social media data will provide powerful tools for taking better decisions.
Data and System Interoperability: As the data complexity and update frequency increase, company will have to increase automation, reduce ETL processes and data duplication. This will put pressure on both data and system interoperability for the geospatial technologies which will need to consume various direct data formats from other spatial and non-spatial systems. The geospatial platform will also need to geo-enable other areas of the organization such as marketing, sales and customer support, outside of the GIS and Engineering groups.
Big Data and IoT: As the network density and complexity increase, the modeling and simulation data won't be enough and will be combined with measured and verified data. This data will come various sources from; Test Mobile Systems (TEMS) data, call traces, data from IoT devices, information gathered from the subscriber's cell phones or even crowdsourced data. This will drive an increasing need for Big Data connectivity and geospatial Big Data processing and analytics capabilities for various usages including customer verified coverage, marketing and network planning or even data monetization.
Conclusion: How Korem can help you with your 5G Deployment?
With Fixed Wireless deployments growing rapidly and US carrier starting 5G deployments in various US cities, we believe Location Intelligence will be key to overcome many 5G challenges, so if you need geospatial expertise, technologies or data to ensure a fast and successful 5G go-to-market, Korem is the trusted advisor of choice.
Korem has over 25 years of experience using Location Intelligence to help telecommunication companies address business needs and challenges brought by the evolution of the technology. Our large portfolio of geospatial products and data combine with our knowledge of geospatial and telco challenges allows us to recommend, sell and integrate the best solution for your business needs.
See location intelligence in action!
Watch our 5G webinar to view a demo of multiple datasets for real 5G use cases.