Geospatial Innovation in Fuel Retail for Smarter Decision-Making

Retail in the fuel industry is all about location. Where to acquire or rebrand stores is the starting point, but maximizing the profit potential of each site requires a combination of geospatial data, analytics, customer knowledge, and industry experience. The same actions throughout a network of sites will have different outcomes in different segments according to their location.
Fuel pricing and demand professionals can gain a competitive advantage by visualizing business information in a geospatial mapping environment to deliver more predictable and profitable outcomes on an ongoing basis.
Confidently creating and executing a winning fuel pricing strategy and predicting sales is within your grasp with a personalized approach and the best mix of geospatial data, technology, and expertise.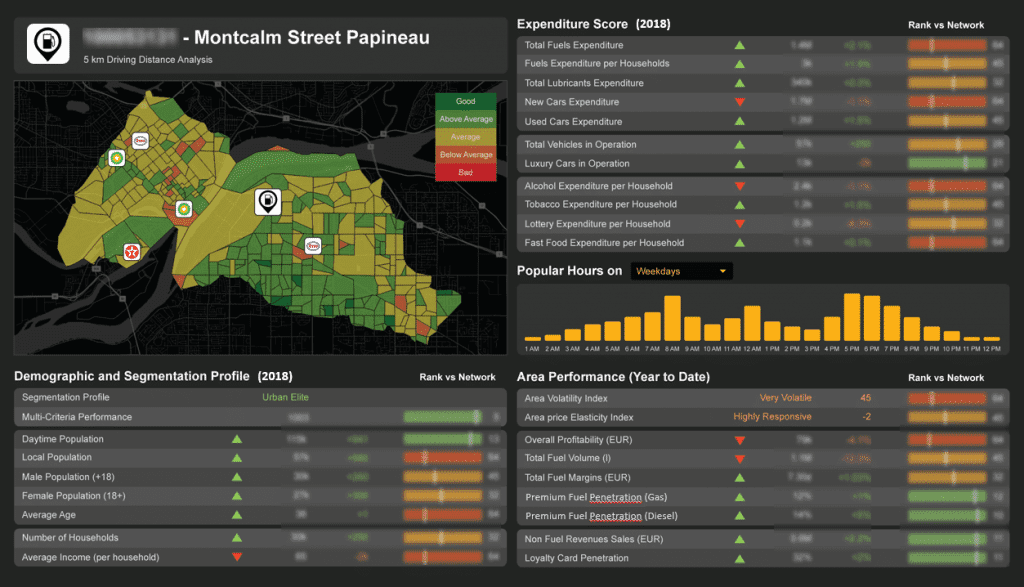 An Ever-Changing Oil and Gas Market
Even before the COVID-19 crisis, the oil and gas market was volatile. Then, due to the pandemic and geopolitical issues, oil prices dropped to stimulate the fuel market. The lockdowns reduced the number of vehicles on the road, which caused a demand reduction in some countries by up to 70%.
Margins and profitability in all regions have declined, and it is becoming increasingly difficult for fuel pricing managers to make decisions that improve performance.
However, during the pandemic, the value of convenience store baskets increased by 40 to 45% overall. This gave an edge to retail fuel stores that also sold convenience products. Adding new high-demand product lines and, in some cases, deliveries, helped to improve customer satisfaction and profitability, while engaging new and loyal customers.
Moreover, the opportunity to attract an even more diversified clientele and create new revenue streams by installing electric vehicle (EV) charge points is too important to be ignored by service stations and convenience stores. Indeed, EV owners tend to spend an average of $1 in non-energy revenue sources at the business where they are parked per minute of charging if the products and services are interesting enough.
Choosing the best charging station locations and the best charging speed can be facilitated by several hyperlocal data, including points of interest and mobility data that provide more context on consumer travel patterns.
Thus, location analysis in fuel retail supports data-driven decisions based on advanced analytics, which is even more powerful when combined with industry experience.
Work Experience in the Fuel Retail Industry is No Longer Enough for Pricing Managers
Many pricing managers have traditionally been successful in making decisions based on years in the fuel retail business. However, there are now so many variables and competitors that it has become nearly impossible to only rely on gut feelings; data is paramount and its quality must be ensured. In fact, according to a KPMG survey, 56% of CEOs are concerned about the quality of the data on which they base decisions.
Korem has been assisting fuel retail clients in using geospatial data for over 15 years, allowing pricing executives to switch from gut-based decisions to quality data-driven decisions, giving them a sizable competitive advantage.
The Benefits of Data Visualization for Fuel Retailers
Why do some locations do better than others? 80% of retail data has a location attribute, and Korem sources a wide range of data to support pricing decisions.
Here are a few examples of how fuel retailers use geospatial data to gain a competitive advantage: 
Location-based sales data can be viewed on a map to illustrate what people are buying as well as when and where they are buying it. Data-driven analytics help you understand why.
Historical and live car, truck, and pedestrian traffic data show how transportation impacts customer buying choices, including commuting and daytime populations.
Geospatial data and technology allow users to visualize and overlay all stores, including your competitors' outlets, and customers on a map:

See where your profitable customers live and where they go, and adapt your offering accordingly to better serve them.
Understand the socio-economic demographics of customers and what impacts their purchasing decisions.
Compare consumer data, including income and household expenditure, types of vehicles, fuel demand, and the c-store categories customers prefer.
View buying behaviors by the time of day and day of the week.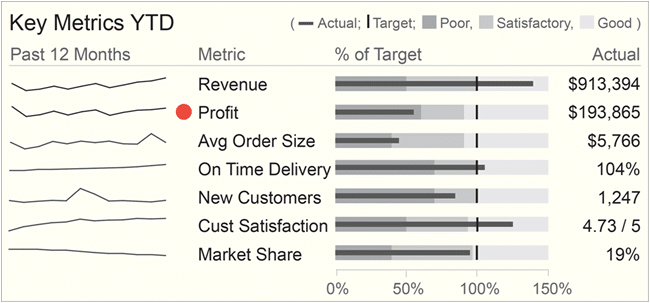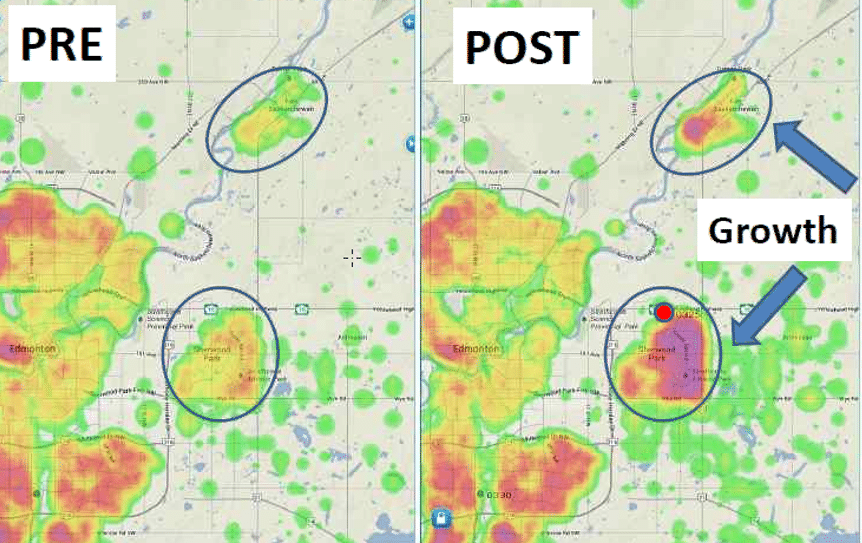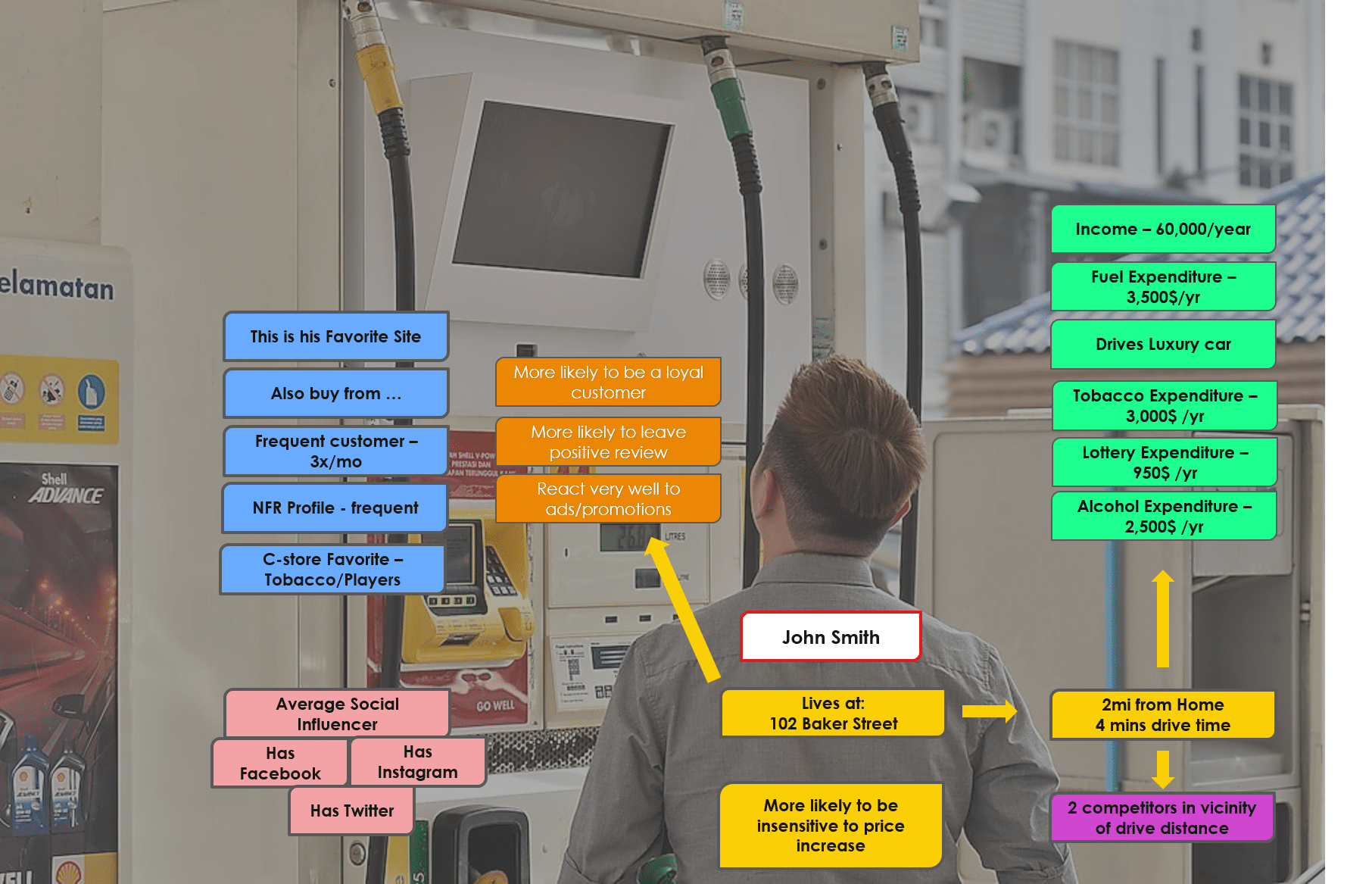 Can You Afford to Wait Until Things Improve?

Shell, which is one of Korem's customers, was able to generate €3,3M in new margins within the first three months of working with us. The company was able to understand its real competitors and its loyal customers, and was able to adapt its pricing strategies and make adjustments according to geospatial analysis tools assembled for its teams. Shell is now able to continue to pivot and adjust to changing situations.
What Can Personalized Integrated Fuel Retail Solutions Deliver?
Korem can combine information from internal and external data sources, including competitive pricing, traffic patterns, and socio-demographic variables to derive insight. That insight will help you to:
Accurately predict sales volumes and deliver sales forecasts;
Calculate cross-price elasticity based on demographics and patterns to maximize sales and profit. People in some areas will travel farther to buy at lower prices, while others will pay more for convenience;
Understand, predict, and track customer behaviors;
Run 'What If' scenarios to predict outcomes of pricing strategies;
Find correlations and create strategies combining fuel and convenience products and services sales;
Make decisions that win business from competitors instead of being driven by them;
Be responsive to changing patterns and able to adapt dynamically;
Understand the heartbeat of competitors based on historical daily changes, area, and distance to customers;
Integrate and make sense of the huge and ever-growing volume of up-to-date data coming from consumers every day.
Be Ahead of the Curve with Geospatial Technologies
Using location data, technology, services, and expertise, fuel retailers make and justify smarter decisions. Fuel pricing managers can confidently demonstrate to their management teams how and why their pricing decisions are made, and even use the same tools to quantify the positive outcomes.
When the fuel industry is booming, it's easy to come up with a fuel pricing strategy that appears to work. Even then, some players always seem to be doing way better than average. That's because of the tools they use and the partnerships they have.
Today, the industry isn't booming, but leaders who focus on geospatial data are bucking the trends.
Start with Korem Today
Korem has a wealth of location-based data and technology, and a broad fuel retail industry experience. Our geospatial experts partner with you and take an agnostic approach to recommend the best fuel retail solutions to help you adjust your prices and achieve your business goals, including increased margins, and improved customer satisfaction and loyalty, helping you grow a dominant position in the retail fuel market.
We can leverage knowledge gained through partnerships in the industry while preserving the utmost confidentiality and integrity with our clients. As a trusted ally and through our unique one-stop shop experience, we drive the successful adoption of geospatial technology, while managing risk.