The Lack of Resources and Expertise Within Companies to Fully Exploit Geospatial Technology

The use of geospatial or location-based technologies is now well established and widespread within companies around the world. For the last fifty years, the geospatial industry has continued to consolidate and diversify, bringing the world new, highly specialized solutions for those companies in search of innovation.
While the usefulness and added value of geospatial technology are often well perceived by organizations and their decision-makers, the fact remains that they simply do not have the resources or the knowledge to know where to begin their search for a supplier and how to make sense of the vast list of products and software available on the market.
Indeed, it is increasingly difficult for organizations to follow new technological trends, for example in cloud computing, artificial intelligence, or big data, both because their IT or innovation teams are overwhelmed with their day-to-day operations and tasks, and because very few of them have the expertise or the geospatial literacy to navigate this ever-changing market. In short, to cope with the technology's increasing complexity and better manage the nuances and considerations of each solution, resource specialization is key.
The Rarity of Specialized Manpower: A Challenge for Organizations
Contrary to what some might believe, the main reasons for the failure of geospatial projects are not related to the technology per se, but rather to the absence of specialized manpower and the lack of availability of key skills within companies. According to a BCG report, only 15% of companies surveyed considered themselves leaders in location intelligence. It is therefore not unusual for common problems, which could have been better anticipated and dealt with by a team of experts, to arise at the different project stages.
The shortage of talent, which particularly affects the information and communication technologies (ICT) sector and the geospatial field does not help this trend and has a direct impact on the growth of those companies dependent on innovation. In addition, the diversification of geospatial-related fields, such as programmers, data architects, business analysts, or data scientists, makes it increasingly complex for an organization to be completely autonomous in terms of technologies.
In fact, according to a Quanthub survey, there was a shortage of 250,000 data scientists in 2020. As of April 2022, there were 2,700 data scientist vacancies in the UK on LinkedIn. Moreover, 55% of Canadian business owners currently have difficulty hiring all the staff they need, which is also the case in the United States. Due to Canada's relatively small population and a growing need for ICT workers, college and university graduates will need to fill nearly 65,000 jobs in software development alone between now and 2028.

The Growing Power of Procurement Groups
To cope with this trend, a growing number of organizations are adopting governance policies for acquiring and managing information technology contracts. However, the problem with them lies in the fact that they must oversee a multitude of acquisitions and varied contracts, each with its own specificities. Think software contracts, equipment contracts, construction services, lease management, and more. Even by specializing their practices and training their employees, companies are able to see that the considerations and criteria for selecting a geospatial solution will turn out to be very different from a CRM solution, for example.
Thus, the majority of companies will content themselves with putting out calls for tenders to find a geospatial solution, establishing generic selection criteria that do not always correspond to their requirements. To help them define and write the bases of these calls for tenders, it is not uncommon for organizations to fall back on external companies with which they are used to working, without considering that they often lack the industry knowledge required to support them.
At first glance, it can be tempting to seek out the cheapest supplier for each specific requirement and use a competitive bidding process to be sure of your choices. However, in the long term, this strategy will end up being costly and time-consuming, as it will entail lengthy and potentially inadequate decision-making, which is particularly risky in a world that is moving ever faster, and in which it is essential to be up to date with the latest technologies to remain competitive.
In addition to lacking comprehensiveness, this approach will encourage the purchase of software, data, and professional services from a multitude of suppliers. The companies' technical teams will then have to assess, plan, implement, integrate, and maintain all the solutions acquired, which is no small task. Doing business with multiple suppliers will, in turn, cause a disconnect between the organization's consultants, thus reducing the adoption of technology by users. Furthermore, according to a Lowenstein survey, the costs associated with vendor selection and the quality, integrity, and reliability of their data are the number one concern of data users, with 61% saying it is even a major concern for them.
In the end, the value so sought after by companies will not be created using this strategy, which will, in the end, defeat the original intention: to find a solution that enables teams to save time, stay competitive, and increase their return on investment. But what if there was a new path? A way that would reduce risks and costs while creating assured value for the company?
When Expertise Meets an All-In-One Solution
In purchasing a solution, organizations must not only be certain that it offers them an unparalleled competitive advantage in the market but also be able to use it adequately. And who is better placed than a neutral and independent distributor to advise and support them on the path to success? Over the years, Korem has supplemented its package of location-based solutions to address diverse problems and provide convenience to its customers through its advanced knowledge of technology, setting the company apart from its partners and the competition.
Optimizing software investments and implementing strong software asset management processes have been proven to positively impact the financial health of organizations. According to a BSA global survey, a company with an annual revenue of $83 million could increase its profits by 11% by improving the consistency of its software. It would also increase productivity by 35%, reduce software costs by 20%, and reduce security risks by 54%.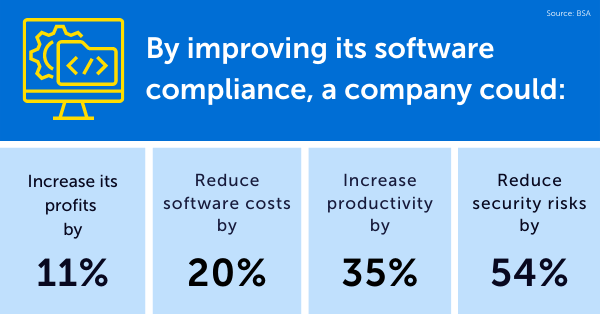 In addition, since our search for the perfect solution is carried out impartially, independently, and rigorously through our vast network of partners, it helps to foster competition so that the purchasing power belongs exclusively to customers. When competition and choices in the market are limited, companies can afford to impose their conditions and price their products and services as they wish, which is obviously not beneficial to consumers. Fortunately, Korem is committed to negotiating the best prices and conditions with its suppliers to guarantee customer peace of mind.
Our One-Stop Shop, which provides our clients with a wide range of complete packages for the technological solutions and services at their disposal, all under one roof, is custom-built to accelerate the adoption of geospatial technology while reducing the risk at all stages of the integration process. Whether you need data integration, geocoding and address management, analytics, and visualization, or a complete enterprise solution, we are committed to giving the best of ourselves to provide an outstanding customer experience. Korem is determined to build a business relationship with its customers based on honesty, trust, and loyalty. Get in touch now so that we can help you develop a business model in line with the most up-to-date technologies!