Discover What's New in MapInfo Pro v2023

In the ever-evolving landscape of location intelligence, staying competitive means keeping up with the latest tools and technologies. Precisely's MapInfo Pro has been a trusted companion since 1986 for GIS analysts that are looking to manage, analyze, visualize, and publish location-based data, and the release of the 2023 version promises to take the geospatial analysis journey to new heights.
If you're already a user of MapInfo Pro and are considering an upgrade or someone exploring mapping solutions, this article will provide you with insights into the exciting new features and the enduring benefits of this indispensable tool.
If you're ready to give it a try, click here!
3D visualization
2023 is an important year in the history of MapInfo Pro. It marks its transition to the 3rd dimension, enabling you to transform flat maps into immersive 3D models.  With this brand-new type of map window, you'll be able to visualize vector and raster data using OpenGL rendering, giving you new perspectives and helping you uncover hidden insight.
Elevation sources can come from free WEB services or locally from your own GRID files.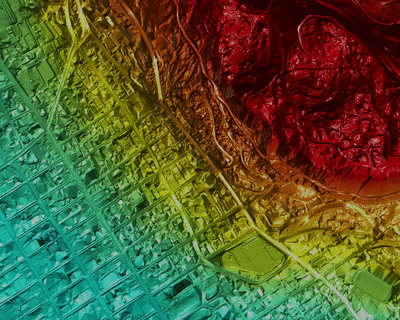 Drape Surface over 3D Model
These models can be overlaid with aerial imagery or other XYZ-type tiled backgrounds such as OpenStreetMap or Precisely Bronze, Steel and Iron services.
2D to 3D vector data
You can also supplement your elevation models with your own vector data, extruded from a value contained in a descriptive data column, as shown in the following image.
Note that the styles of the thematic layer are automatically transferred to the 3D view.
MapInfo tables now support Z and M values
In addition to their X and Y positions, each vertex of an object can have its own elevation. This makes it possible to create 3D objects directly from MapInfo Pro.
For example, the elevation (Z value) of each end of the following line simulating a "line of sight" has been adjusted using the Draw Tool, newly updated to support Z and M values.
Telecommunications companies can harness this capability to enhance their 5G or mmWave analysis. By drawing a single line on our 3D map, extending from the tower's location to the site they wish to evaluate, they can promptly identify obstructions such as buildings that might hinder the signal transmission between the transmitting tower and the receiver.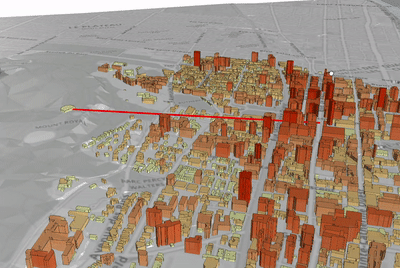 The same principle applies to polygons. The following sectors, created automatically from a layer of points using the "Draw Tool", have been placed at different elevations on the roofs of their corresponding buildings. They show the interaction with the immediate vicinity.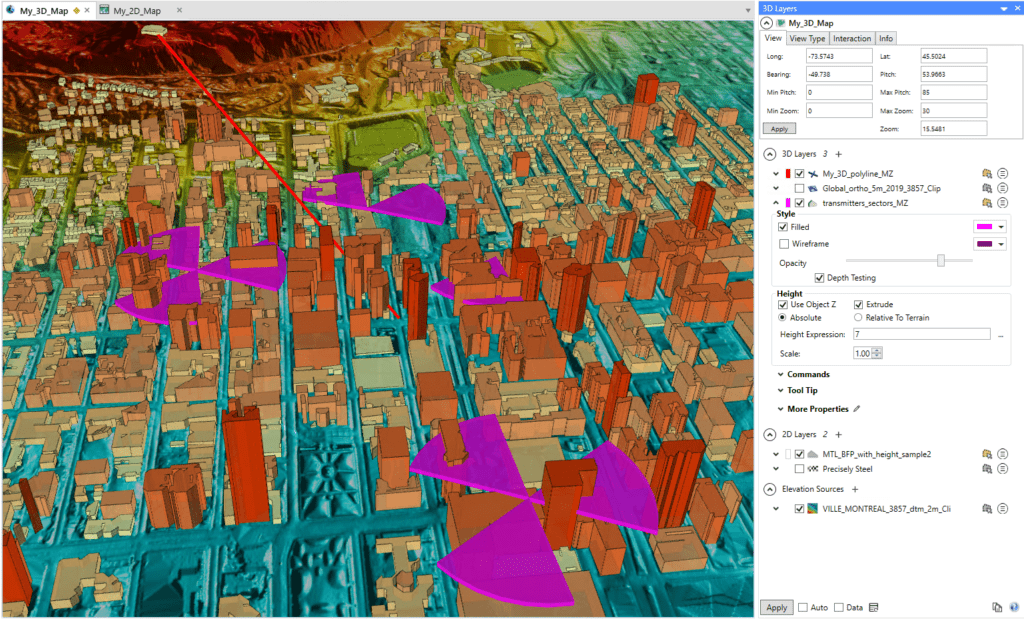 Assign 3D shapes to point data
In addition to basic objects, it is possible to replace a point layer with a complex 3D model in GBL format, a standardized file format used to share 3D data.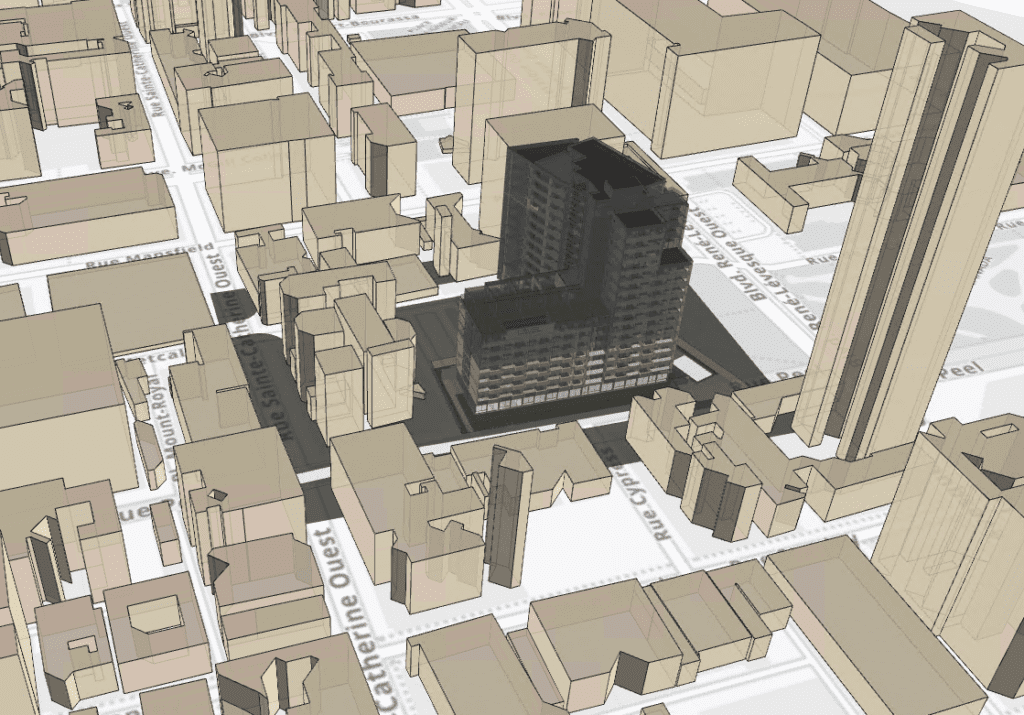 Integration with Spectrum Spatial
Spectrum Spatial users can now directly view and modify tables stored on a Spectrum server. This secure integration avoids data duplication and speeds up the updating of cartographic projects.
Enhanced User Interface
The 2023 version gives us a refreshed and intuitive user interface. The revamped interface streamlines your workflow, making it easier to access essential tools and functions.
Notable improvements include:
Show that tables are read-only in Table List
Ability to turn visibility on/off for cosmetic layer 
Allow setting Grid Layer label expression
Add a menu item to the Browser context menu for Find Selection
With a cleaner and more organized layout, you can focus on what matters most—analyzing and visualizing your spatial data.
More possibilities with the MapInfo Marketplace
If you're looking for ways to extend MapInfo Pro's capabilities, then the MapInfo Marketplace is your go-to destination. Explore a curated collection of add-ons and tools that are new or have been updated, tailored to enhance your geospatial experience.
And thanks to the Marketplace integration within MapInfo Pro, it's easier than ever to install new tools.
One of my recent discoveries is the Multi Search tool. This tool lets you search across multiple columns with a single click. Very handy when you don't know exactly where to look!
Get moving and join more than 100,000 satisfied users
MapInfo Pro v2023 is more than just an upgrade; it's a leap forward in location intelligence. With 3D visualization capabilities, enhanced data connectivity, advanced spatial analytics tools, and its modernized user interface, it offers a powerful solution for businesses across many industries. Whether you're already a MapInfo Pro user considering an upgrade or exploring location intelligence for the first time, MapInfo Pro v2023 promises to be your trusted ally in making data-driven decisions, optimizing costs, gaining a competitive advantage, and delivering exceptional customer experiences.