Geospatial Technology: Invisible but Fundamental to Business Intelligence Solutions

Geospatial technology has never had more access to powerful data processing solutions than it does today, due to cloud computing as well as accurate data and machine learning algorithms. It is possible to answer the more provocative questions that we could never have answered without these current, advanced options. However, people often do not realize its importance as this field has become so much a part of their daily lives. Geospatial technology and its applications are vast. Just type "nearby restaurants" into a search engine and you will get an instant result. Moreover, it has never been easier to get the fastest route from Point A to point B with online mapping services, which provide accurate information about your location, points of interest, or traffic. 
 Yet organizations often have problems that they want to solve, but don't know that geospatial technology, and specifically geolocation, is the right solution for them. Even if they are familiar with the technology, they are not sure where to start and what questions to ask. That is why a strategic consulting service like Korem becomes indispensable in order to evaluate the needs and solutions available to you.   
The Two Groups of Geospatial Technology Users
While many organizations and companies take advantage of geospatial technology on a daily basis, some still struggle to leverage its benefits. Industries can be divided into two categories: 
Those

that are naturally based on geography

:
Those in the first group have no choice but to use geospatial technology, because they cannot exist or operate without location-based data. In general, they understand the undeniable advantage that geospatial technology brings to their organization.  
Those in the second group have just begun to use location-based data, or at least, geospatial capabilities are not yet being leveraged within their organization. These industries do not rely on geospatial technology, but geocoding and data analysis give them indispensable insights and a competitive advantage.  
Business intelligence tools are targeted specifically at this group of users, enabling them to make better decisions and invest their money more intelligently. Moreover, these users need to understand the importance of geospatial technology so that they can stay abreast with technology advances and gain a strategic advantage in a highly competitive marketplace.  
As the two groups are not exactly at the same level of progress, they also don't consume technology in quite the same manner. However, they both benefit from optimizing their operations and responding better to the needs of their clients through merchandizing, pricing, and services delivery. 
BCG conducted a survey of enterprises in the five sectors where location data has a significant impact: financial services, retail and e-commerce, logistics and delivery, real estate, and travel and tourism. It has revealed that these enterprises' business processes and business results are heavily dependent on mapping and geospatial data, which will be equally true over the next three to five years.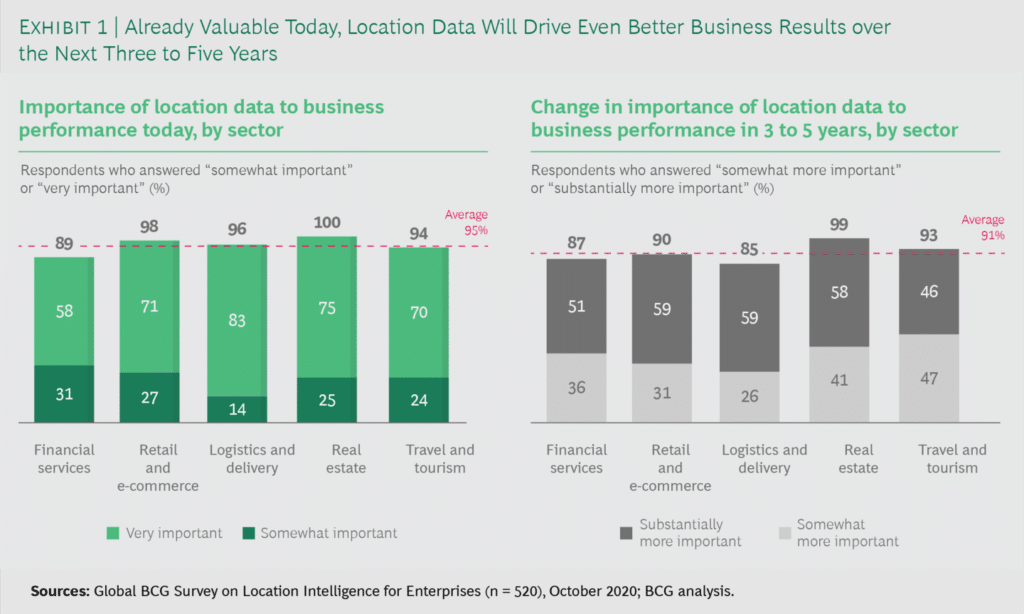 Source: BCG 
Functionalities of Business Intelligence Tools
For the past few years, business intelligence (BI) solutions providers have continued to integrate many geospatial features into their platform. These same features are similar to a select set of mapping functionalities often found in GIS and desktop mapping software. While this select set of functionalities in BI software covers many things, it is sometimes necessary for users to go beyond it and push their limits to answer more specialized questions and solve more specific problems.  
This makes it essential for vendors to provide users with workflows that allow them to couple basic functionalities with other more advanced tools, such as advanced geospatial analysis. For example, they could run a script in the middle of their analysis by adding their data to the platform database. Thus, the competitive differentiator in BI solutions is not so much to provide a panoply of new integrated capabilities, but rather to provide business users with an easy-to-use platform for finding answers to their questions without being concerned with the underlying complex process. 
Today, there are many business intelligence solutions, such as Tableau and Cognos, including map visualization and at least rudimentary spatial analysis as standard features. The popular databases, such as Oracle, Microsoft Azure, and IBM Db2, provide extensive support for primitive geospatial and coordinate systems, as well as spatial analysis. 
Measure Data Quality
While it is possible for suppliers to constantly integrate new features into their products, there will always be a problem of confidence among users until they really understand what is going on with their data. In fact, increasing user confidence in the results they get from their data is often the biggest obstacle to overcome for many vendors.   
For users, a simple table filled with information is often not very intuitive. Visualizing data in graphs or charts is certainly a step further, but it is map visualization that is often the most compelling and reveals information not seen in charts or spreadsheets. To promote understanding of the attributes of the spatial data, and to better exploit these data to analyze market potential or to perform site selection, the user would ideally combine multiple sets of data to arrive at an "answer."  
"For me, everything is about interactivity at this stage, and it is an exciting step for data visualization! It is so much easier to create these visualizations that allow us to really explore the spatial, and the drivers of the spatial."
— Sarah Battersby, Researcher at Tableau
Geolocation-based data is extremely important in analytics, but to help make business decisions, it is necessary to have high-quality data. According to Gartner, nearly 60% of organizations do not measure the financial costs of poor data quality, resulting in increased risk, missed growth opportunities, and a decrease in ROI that can mean an average annual loss of $15 million.  
Unfortunately, many companies lack the financial and technical resources to develop a sustainable data-improvement program that not only reduces their financial costs but also their productivity and reputational costs. According to a report by Precisely, 88% of respondents face challenges in data integration projects because of a lack of qualified personnel.  

Thanks to Korem, our clients have strategic support so that they can reach their objectives. We accelerate the adoption of geospatial technology with our comprehensive One-Stop Shop, and our team of geospatial experts is dedicated to creating the best possible outcome for each client to reduce risk. We give our clients the choice of Korem taking care of everything, or giving them the opportunity to acquire the knowledge they need to increase their team's capabilities and to follow innovations in geospatial technology. Talk to one of our experts to find the best solution for your organization's business challenges!