Last-Mile Delivery Route Optimization with Real-Time Data and Route Planning Applications

The last-mile delivery process is evolving dramatically as e-commerce becomes increasingly popular and omnipresent in our daily lives, particularly since the beginning of COVID-19, when physical restaurants and stores were closed. Companies with user-friendly online platforms and door-to-door delivery like Amazon and Uber have really stood out from the others and changed expectations in both a B2C and B2B context. As a result, today's customers don't settle for anything less than a premium delivery service, with time-of-delivery notifications and real-time tracking. They are sometimes even willing to pay higher fees for transparent, seamless service and faster delivery, which is especially true for younger generations.
However, it is more and more difficult for organizations to meet customer demands while maintaining delivery efficiency and profit margins. Indeed, in addition to being the key to customer satisfaction, last-mile delivery is also the most expensive and time-consuming part of the whole shipping process. Therefore, improving fleet management should not just be about warehousing, sorting, and parceling. Even if last-mile delivery is the very last step, where a physical product is delivered from—be it fulfillment centers or brick-and-mortar retail establishments—until it reaches the doorstep of the end customer's home represents 41% of the overall supply chain costs.

Regardless of the industry, there will be winners and losers. It is therefore in the best interest of organizations to digitize their last-mile delivery operations and increase the visibility of their process if they want to remain competitive and keep their market share. This is mainly achieved through flawless route optimization, which should include address recognition, high precision address geocoding, and routing algorithms.
The Many Challenges Faced by Last-Mile Delivery Providers
Delivery Efficiency
Delivery efficiency, and by extension, the speed of shipping packages to the customer, are the biggest challenge for last-mile delivery providers. Delivery efficiency covers everything from end-customer interaction to the driver's problem resolution and ensures companies keep their competitive edge. As a matter of fact, 43% of supply chain managers see inefficiencies in order fulfillment, packaging, and online delivery as a major barrier to implementing last-mile delivery solutions, according to the Capgemini Research Institute.
This challenge is important to consider because, according to a survey of 1,500 consumers:
98% of consumers say that delivery impacts their brand loyalty.
84% report that they are unlikely to buy again after a single bad delivery experience.
87% expect compensation and 52% expect reimbursement or reduced delivery costs when a delivery is later than expected.
Margins and Costs
Maintaining margins and increasing last-mile delivery costs is the second problem encountered by last-mile delivery providers. In 2018, 42% of them saw their margins decrease. This result is impacted not only by oil and fuel costs, toll costs, rest time, and last-mile rates but also by operational efficiency, which brings us back to our number one challenge. Meeting the rising demand in terms of faster and cheaper delivery is a big concern that should encourage companies to invest in tools that calculate cost-optimized routes. Moreover, it would be particularly helpful for complex delivery areas, such as metropolitan or urban areas, where there are more traffic and obstacles.
Customer Service
The third challenge is the difficulty of meeting customer demand to provide them with a seamless and transparent experience. These demands are increasingly specific and require companies to digitize their last-mile logistics to offer a delivery service in line with the latest technological trends. These demands include:
Same-day or next-day delivery
Free delivery
Delivery time notification
Delivery time rescheduling
Easy returns
In fact, nearly half of consumers want next-day delivery and a quarter of them want same-day delivery. However, companies must be careful when guaranteeing fast delivery, because if they don't meet the deadline, it only creates more frustration for the customer. Therefore, they have to find the right balance between customer satisfaction and profitability. If they don't modernize their operations, they risk losing customers, who will eventually go elsewhere for better and faster service.
Route Planning and Optimization: the First Step Towards a Maximized Last-Mile Delivery Strategy
Having route optimization software is the best way to solve the majority of problems encountered by last-mile delivery providers, whether in terms of efficiency, costs, or customer satisfaction. To achieve great results, it is mandatory for them to have address recognition, high precision address geocoding, and routing algorithms.
By combining all that with live maps, apps that follow drivers in real-time, proof of deliveries, feedback surveys, and Direct to Consumer (DTC) as a service, the communication with the customer becomes optimal. In addition, optimizing routes promotes better conditions for drivers and enables precise navigation to reduce overruns and driver dissatisfaction.
Address Recognition and Geocoding
The goal of address recognition is to confirm that an address is reliable and eligible for delivery. This process can be greatly facilitated when retailers have an autocomplete address API on their e-commerce site to suggest verified addresses for the checkout process when customers purchase products online.
Once an address has been correctly recognized, it can be geocoded, which means attaching latitude and longitude coordinates to accurately pinpoint the customer's locations and avoid delivery errors. Moreover, providers can use a dynamic mapping platform to locate difficult addresses and capture details of hard-to-find or remote locations.
Combined, address recognition and high-accuracy address geocoding allow delivery managers to reduce their fleet operating costs by up to 21%.
Routing Algorithms
Routing algorithms are key to optimizing delivery routes because they take into consideration data in relation to the last-mile delivery process. This data includes the time of day, location, speed limits, vehicle capacity, fleet size, current and historical traffic patterns, delivery windows, and shift times. Afterward, route planning applications can provide real-time updates and feedback on the most efficient routes to take to avoid issues like traffic and canceled deliveries, as well as limitations such as low bridges, vehicle rules, inner-city restrictions, and road closures.
With this information, deliverers can avoid embarrassing situations like in the picture above, give clients accurate and more precise time windows, and have less difficulty meeting deadlines, particularly in urban areas where there are more unexpected issues and limitations than in rural areas. In fact, they can increase the accuracy of the estimated time of arrival (ETA) by up to 25%.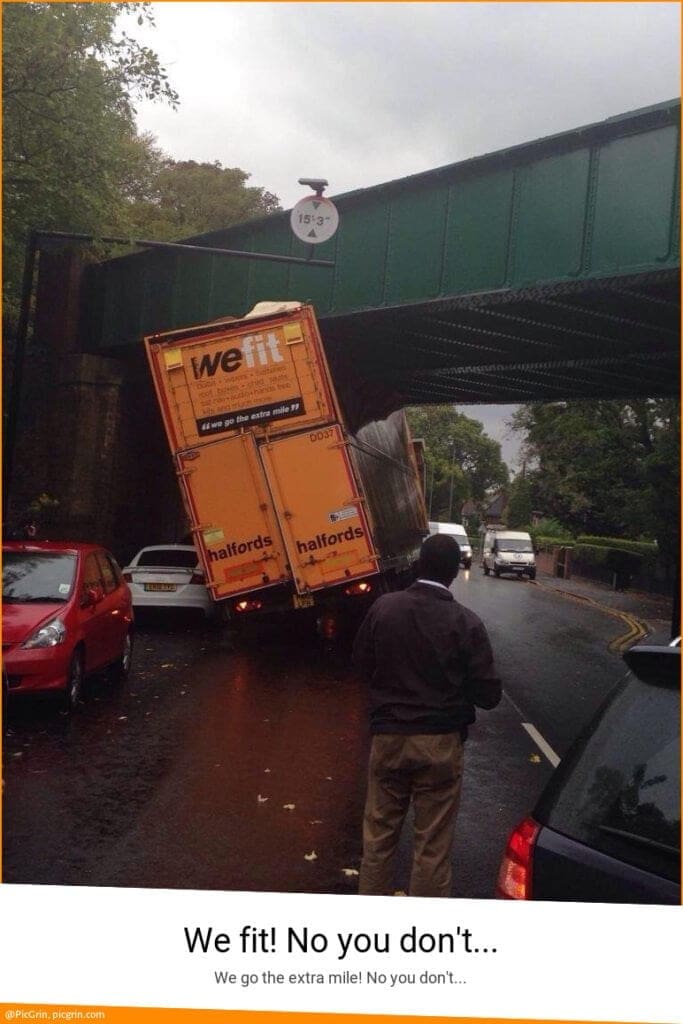 "Every single business is touched by the power of location to know when things are arriving and what's the estimated time of arrival. ETAs and asset tracking clearly have an impact on the transportation industry." 

 

– Charity Rumery, General Manager of HERE Technologies North America
Routing algorithms and route planning also allow drivers to increase stops per tour by up to 30%. More deliveries in a day mean enhanced customer satisfaction, which means more purchases and increased profits.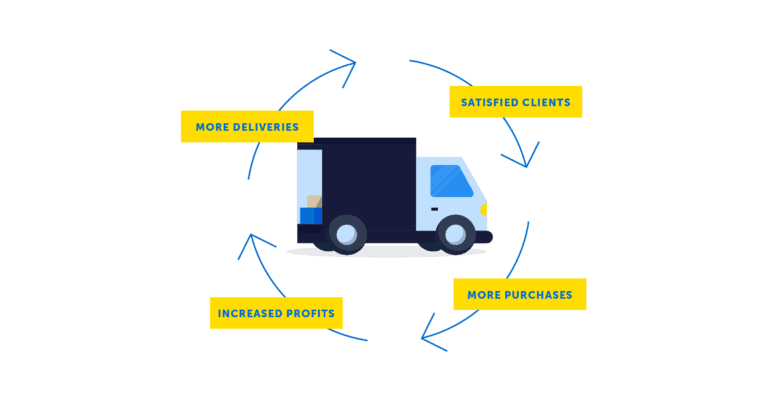 How Can Korem Help You
Korem can give you a hand with your fleet management strategy and make your delivery process more efficient, profitable, and satisfying for customers. Because no solution can claim to be perfect and complete, our expertise and DaaS offering are here to help you compare data and software providers to find the right solution for you. We can even combine several products from our extensive portfolio of partners to create a solution to suit your needs.
Among these quality products are those from HERE Technologies, which offers the richest and most unique road dataset in the market. This strategic partnership enables fleet managers to take control of the delivery process, reduce total costs, improve productivity, and retain drivers while growing their business.
To know more about what Korem can do for transportation and logistics companies, we invite you to watch this on-demand webinar on optimizing supply chain logistics with traffic analytics for both middle and last-mile delivery.