The Four Main Benefits of Geomarketing

Thanks to the evolution of the Internet, geomarketing has become increasingly sophisticated. On the one hand, SaaS solutions now give users easier access to decision-making tools. On the other hand, location data collected from individuals using smartphones enriches geomarketing data and applications. This mobile location data provides essential information that helps us better understand the behavior, lifestyle, and movement of populations, even though this data is more difficult to collect these days due to new privacy considerations.
Currently, 70% of consumers say they are willing to share their location if they get something valuable in return, such as receiving location-based alerts from companies, which 80% of consumers say they want.

By conducting geomarketing studies, you will be able to answer concrete operational questions and structure your communications initiatives so that your messages are sent to the right person, in the right place, at the right time. Creating a geomarketing strategy is especially important since many industries are now omnichannel, offering products and services online as well as in physical retail stores.
What is geomarketing?
Geomarketing is a branch of marketing used to analyze location-based consumer behavior for insights you can leverage in your marketing strategy. The goal is to reach your audience at the most opportune moment to get more and higher quality customers. Geomarketing uses mapping tools, geographic information systems (GIS), and software to establish connections between all kinds of location data within a predefined area, like a retail trade area. This is the area where each of your branches has influence and attractiveness.
This can involve combining your own data, such as the GPS coordinates of your retail outlets and those of your competitors, with geographic and sociodemographic data like age, gender, education level, average income, and household consumer spending data. Contextual mobility information such as footfall data and traffic data is also essential for analyzing population movement trends.
Mapping consumer behavior and local travel using location data enables you to make more intentional decisions for your company and to leverage geolocation marketing, also known as location-based marketing. Consider this example: promoting new retail stores to consumers requires substantial advertising efforts and geomarketing is a key strategy to guarantee their success starting in the first year of activity.
More specifically, geomarketing makes it easier to:
1. Conduct Market Research
Market research is an essential step in the process of starting a new business or expanding an existing company. Knowing your market, competitors, and customers helps you target your marketing strategies and plan where to set up stores by identifying areas with the best potential, meaning the places where your target is located so you can maximize footfall.
Companies can use foot traffic data to model demand at their locations and those of their competitors. This data will also enable them to optimize their footprint to better align with consumer habits, showing them which stores should open earlier, close later, open before the others, etc.
In order to choose the best retail site, you need to know the population in a given area, as well as their characteristics and what connects them. It's also important to identify and locate your competition. With this information, it will be easier to understand the share of potential customers in the target area and to adapt your marketing strategy and products to fit the geographic area, if necessary. This strategy will enable your company to reduce risks by investing money more wisely based on the data.
2. Evaluate Sales Performance
Once you've chosen a sales area and set up the business, you need to evaluate sales performance. Here again, geomarketing will play a key role in identifying sales distribution in a designated retail area. With mapping tools like thematic maps or synthesis maps, you can identify underperforming areas or understand whether two businesses, such as multiple franchise locations, complementary businesses, or partners, are competing among themselves. This is known as cannibalization, where retail stores from the same brand compete in the same market.
If cannibalization significantly impacts profitability, companies may have to implement commercial strategies to optimize the network and each branch's location, for example through geographic segmentation. After dividing a region into several sectors, companies can adapt their market strategy and prospecting based on the customers in each sector, which will correct or improve sales performance over time.
When used properly, geomarketing will facilitate strategic decisions about which locations to open or close. Detailed analysis of sales performance will also help companies manage retail footprints and ultimately evaluate whether a particular outlet should be expanded, reduced, or moved to another location.
3. Run Targeted Marketing Campaigns
Geomarketing data is very useful for identifying customer behavior and purchasing habits, because they provide lots of information about how these consumers get from one store to another, where they stop, and where they make purchases. Combining a consumer's visit history with their current location gives you the opportunity to do location-based marketing and target specific demographic groups. Research proves that location data boosts the effectiveness of marketing campaigns by up to 80%.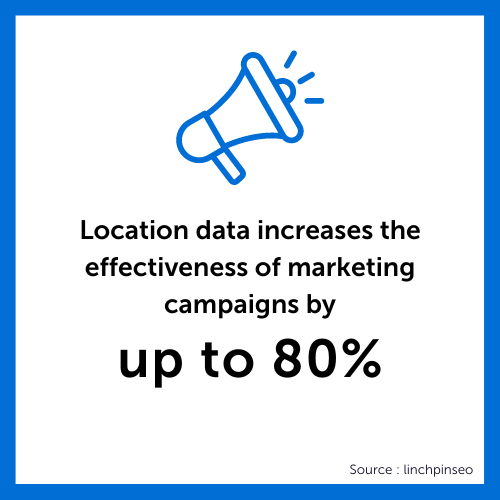 Targeted marketing requires segmenting customers and refining each segment to make sure that only the most relevant people are targeted, meaning those who are most likely to buy.
''There's shifting from going after an individual to going after audience segments that exhibit common physical movement, characteristics, and behavior from a location point of view. What we're seeing right now is how to use location data underneath some of other services.''
Once customers are segmented, companies can choose to target their marketing campaigns to a specific place or audience.
Location Targeting
Location targeting enables companies to use mobility habits to send their promotions or ads to nearby potential customers or to those within specific predefined geographic boundaries. For example, with information on a user's exact location, a store's mobile app can send them a limited-time offer like a discount coupon that will encourage them to visit that business location. This is called geofencing. Around 72% of consumers usually follow through with a call to action if the company's physical location is close to them.
In contrast, geo-conquesting is a tactic that uses geofencing to pull consumers away from competitors. Rather than putting the geographic boundary around your business, it's located around your competitor's. This means you can send offers to consumers who are near your competitor to bring them to your store instead.

Audience Targeting
Audience targeting relies on a combination of demographics, footfall, and purchase history data to send personalized ads to people who have visited a place or searched for a brand or category within a given timeframe. For example, if a consumer has visited several home appliance stores within the past three days, it's safe to assume they are shopping for appliances. A retailer can use geomarketing to send this potential customer an ad or custom offer to increase the chances of making a sale.
It's been proven that people are two times more likely to visit a store after seeing an ad that leverages geomarketing. The great thing is that these techniques can be used for any channel, including social media posts, prospecting emails, billboards, mailed brochures, push notifications from mobile apps, and SMS messages. All you need to do is adapt your communications to deliver a message that is relevant to the potential customer based on the time and location.
4. Optimize Logistics
Geomarketing is based on market segments, among other things. This means you can assign geographic sectors to optimize logistics for your supply chain and last mile delivery. For example, you can consider allocating deliveries and online sales based on demand or optimizing pricing based on the number of miles driven from the retail store or warehouse.
How Korem Can Help You
While geomarketing may seem simple at first glance, implementing these techniques requires experience in multiple areas, including marketing, geography, statistics, and IT. It's wise to turn to geospatial experts who can provide advice tailored to your needs and your industry.
Korem works with multiple data and software vendors so you can choose from a wide range of products that will enable you to fully leverage geolocation and optimize your marketing efforts.