The Benefits of Geolocation for the Retail Industry

Geolocation is not a new concept. For decades, it has been one of the key factors to success for the retail industry, especially when it comes to market analysis and physical network building. Even before the pandemic, it was already a challenge for retailers to choose the most profitable sites while trying to strike a balance between their brick-and-mortar networks and e-commerce.
But new geolocation use cases are emerging that go beyond brick-and-mortar networks, especially in a post-COVID world, such as geomarketing and real estate operations management. Despite years of talk about the demise of traditional stores, we're seeing over 85% of retail sales in the United States still taking place in physical stores (LS Retail, 2021). The synergy between in-store and online purchasing is stronger than ever before.
We can also consider last-mile delivery, which is even more significant with the dramatic rise in online orders and deliveries, as well as customer engagement. With promotional mailings becoming increasingly rare, retailers are relying more on direct interactions like push notifications, which can be based on customer geolocation. Currently, 80% of consumers would like to get location-based alerts from businesses by sharing their location via their cellular network (Linchpinseo, 2022).
Lasting changes in consumer habits, combined with technological advances and personal data governance, are now forcing retailers to reassess their strategy to stand out in a highly competitive market. Geospatial data and technology should be an integral part of every step in the customer journey, from site selection to online ordering and inventory management to home delivery.
How Can Geospatial Technology Help Businesses in the Post-Pandemic Era?
It hardly comes as news that COVID-19 caused massive disruption, whether in terms of the population's travel and consumption habits or even the labor shortages. In response to these disruptions, which directly affect the retail industry, Korem has identified three use cases in which geospatial technology can help bring solutions.
1. Optimizing Last-Mile Delivery
Retailers wishing to provide last-mile delivery face a number of challenges. First, there is a high risk of mistakes in packages being considered Undeliverable as Addressed (UAA) because of a misspelled address, a move, a delivery at the wrong address, or an address that cannot be found. In 2021, the U.S. Postal Service estimated that losses caused by UAA mail amounted to nearly $1.4 billion in the U.S.
While it was once possible to rely solely on a zip code for delivery, this is no longer the case. Now more than ever, with the emergence of major players like Amazon creating new expectations among customers, we need the accuracy offered by geocoding, which consists of assigning geographic coordinates to a mailing address.
One example of a Korem client that used an efficient geolocation solution and address autocomplete is St-Hubert, which successfully increased its address match rate from 75% to 96%. With this increase of over 20 percentage points, the company was able to accomplish several things, including speeding up its order processing and reducing its call center load.
Secondly, consumers have new expectations, which can include quick, on-time delivery, for free or at low cost, and the ability to track the movement of packages. All of this is another major challenge for retailers. These factors are all the more relevant since:
98% of consumers say that delivery impacts their brand loyalty.
84% report that they are unlikely to buy again after a single bad delivery experience.
87% expect compensation and 52% expect reimbursement or reduced delivery costs when a delivery is later than expected.
Source: Business Wire, 2018
Lastly, according to a study from the Capgemini Research Institute (2018), last-mile delivery accounts for the highest share (41%) of the overall supply chain cost, which eats away at retailer profit margins. Supply chain-related expenses also include warehousing (13%), sorting (20%), parceling (16%), and related costs (11%).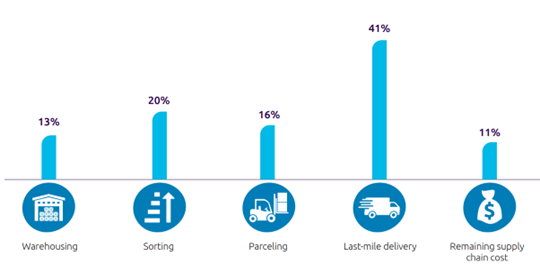 Source: Capgemini Research Institute, Last-mile delivery executive survey, 2018
Choosing the right geospatial solution for last-mile delivery, then, means considering the collection and use of location information, geocoding accuracy and performance, and address recognition and validation. Korem can help you optimize your supply chain logistics.
2. Managing New Mobility Data Sources
The broad family of geospatial data includes mobility and location data collected from apps on our cell phones and GPS probes. More specifically, foot traffic data and road traffic data are invaluable sources of information for analyzing sites efficiently, making accurate financial forecasts, generating high-level business intelligence, and better understanding how customers move and behave. The goal is to modify strategies and get ahead of the competition.
Foot traffic is also a key store performance indicator. Last March, Best Buy lost 4% of its stock value after a report showed that foot traffic in its stores had decreased 7% year over year.
While it is very important to tie data to locations, we can't forget that collecting and acquiring geospatial data comes with challenges in terms of confidentiality, privacy, data integrity, and legislation. You may recall the case of Tim Hortons, which violated data privacy law by collecting large amounts of sensitive geolocation data… Illegal data collection doesn't just expose companies to stiff fines, it can also greatly tarnish their reputation, which has a direct impact on consumers' brand confidence and loyalty.
This means it is important to carefully choose a geospatial partner that can ensure user anonymity and has international security standard ISO 27001 certification, leaving you free to use real-world information to get the best market perspectives with no risk to you or your customers.
What's more, GPS probe data is often massive and complex, especially because it is updated every 48 to 72 hours. Few companies have the expertise or in-house resources to process this data efficiently. This makes it even more important to have a partner that can recommend the appropriate software or even perform data integration as needed.
3. Building an Electric Vehicle Charging Station Strategy
Electric vehicles are booming, with an adoption deadline set in 2035, after which sales of new fossil fuel-powered vehicles will be banned in the province of Quebec. Though the charging infrastructure is expanding, the supply is currently insufficient to meet the growing demand from people who want to charge their vehicle on the road. In Quebec in 2019, there were only 8.6 stations for every 1,000 electric vehicles.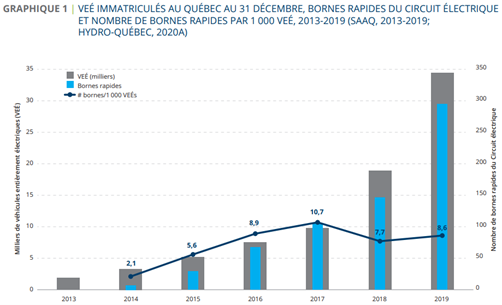 Source: Chair in Energy Sector Management, HEC Montréal, 2021
It goes without saying that this is a unique opportunity for retailers to secure a form of extra revenue and attract new consumers to their store. At the same time, it is no small task to Companies will need accurate and reliable data, the right visualization tools, and support from experts in the field.
Once they are properly equipped, retailers will be able to analyze several indicators to determine the perfect site for new infrastructure, especially in terms of customer demographics, movement patterns and driving distances, road and foot traffic, locations of existing charging stations, and their own commercial data.
Korem and Location Intelligence Can Help You
Over its 29 years of experience, Korem has noticed that the vast majority of companies are not properly equipped to take on their geolocation projects alone.
49% of companies have difficulty identifying a clear return on investment in geolocation (Fast Company).
Only 15% of companies questioned are qualified as geolocation leaders (BCG, 2021).
A total of 70% of organizations report that they do not have access to specialized geolocation resources (GeoBuiz, IDC).
The geospatial technology expertise needed is also increasingly sophisticated and a few factors can jeopardize the initiatives companies want to carry out. When planning a long-term digital transformation program over several years, companies face vastly greater degrees of risk and complexity. This means that technology and expertise cannot be dissociated.
Today, still driven by its desire to innovate and push boundaries, Korem has become the largest independent geolocation solutions provider in North America. Every day, some of the largest companies in the region rely on Korem to increase their efficiency, leverage multiple data sources, attract customers with the value added by geolocation, and make informed decisions on site selection, among other things. 
With its unique one-stop-shop experience, Korem drives the successful adoption of geospatial technology, while managing risk. Discover Korem's full portfolio of use cases for retail today.